Delivery Information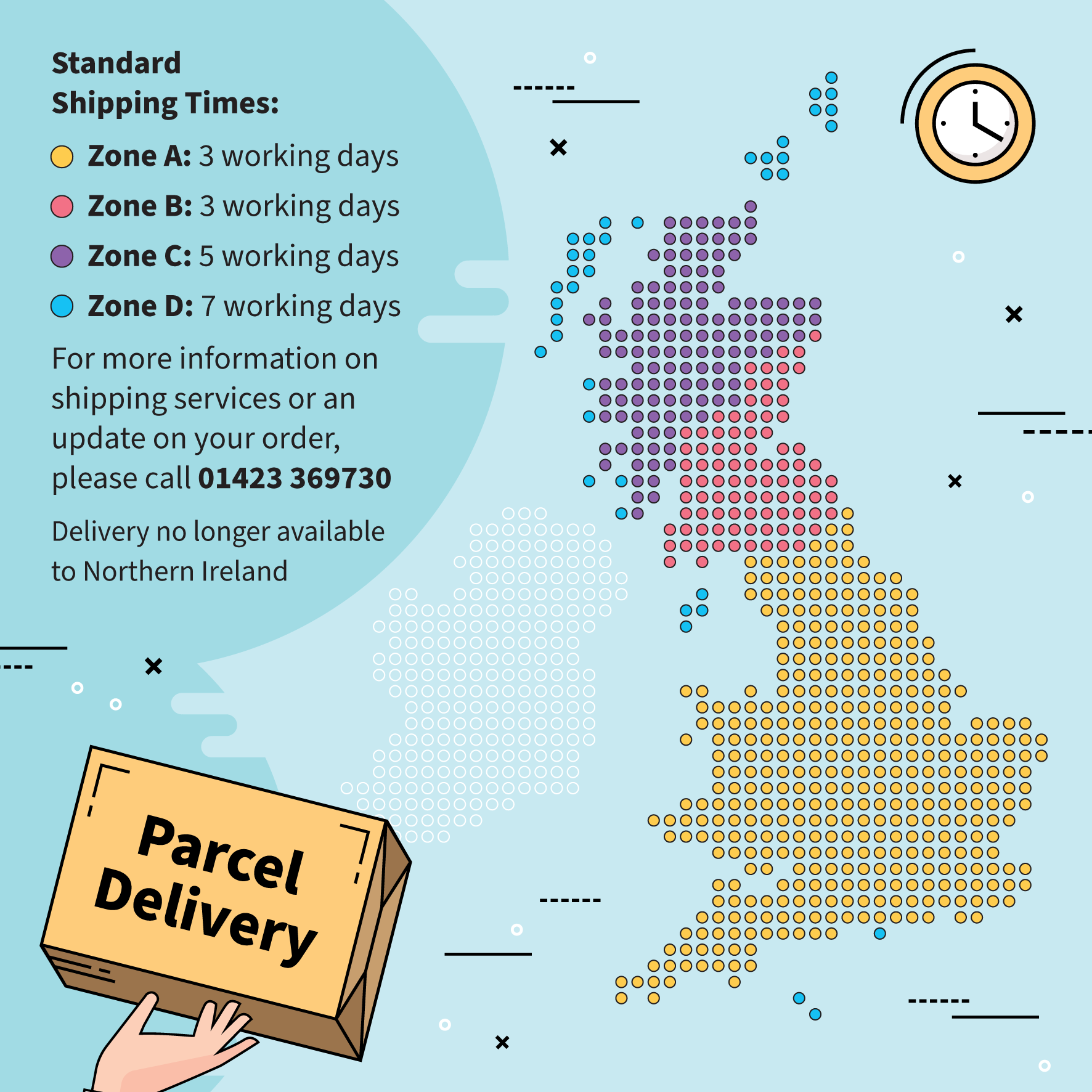 Online Delivery Charges and Details.
If you have a business account set up with John Chambers Wildflowers please contact your sale advisor for business delivery times and rateson 01423 369790.
Online Delivery Table
Delivery Charge
Available on Delivery Zone
Delivery Timescale
Post Code Areas
£5 Standard Eco Delivery Charge on orders under £300 ex VAT
A & B
2 - 3 working days
All Mainland England and Wales
Scotland - DD,DG, EH, FK, G, KA (except KA27 & KA28) KY, ML, TD, AB1 - AB16, AB21-25, AB30, AB39, PA1- PA19, PH1-PH3
£0 Standard Eco Delivery Charge on orders over £300 ex VAT
A & B
2 - 3 working days
All Mainland England and Wales
Scotland - DD,DG, EH, FK, G, KA (except KA27 & KA28) KY, ML, TD, AB1 - AB16, AB21-25, AB30, AB39, PA1- PA19, PH1-PH3
£10 Scottish Highlands on all orders
Zone C
2- 4 working days
Scottish Highlands - AB31-AB38, AB40-AB56, IV1-IV36, Iv52-IV54, IV63, KW1-KW14, PA21-38, PH4-PH41, PH49-PH50
£10 Scottish Isles, Isle of Man and Isle of Wight on all orders
Zone D
3 - 5 working days
Scottish Isles, Isle of Man and Isle of Wight - HS, IV41-IV49,IV51,IV55,IV56, KA27-KA28, KW15-KW17, PA20, PA41-PA49, PA60-PA78, PH42-PH44,ZE,IM, PO30-PO40
£25 Jersey and Guernsey on all orders
Zone D
2 - 5 working days
Jersey and Guernsey - BT, JE1-JE5, GY1-GY10
£10 Isles of Scilly (No next day option)
Zone A
2-4 Working day
Isles of Scilly - TR21-TR25
We are no longer able to ship online orders to Northern Ireland.

How we delivery our online order products
Products are dispatched as a parcel via a courier.
Standard Online Order Delivery Services
Parcels Delivery
If you pay our standard delivery fee subject to zone area charge. The order will be process and sent out through either our Eco courier service for parcel orders. The eco service is a 2 - 5 working day delivery service subject to zone of delivery and stock availability.
Orders placed before 1pm (Mon-Fri) will be processed same day and aimed to be dispatched the same working day (subject to being in stock at John Chambers Wildflower Seed Den). Any items dispatched directly from our suppliers may require an extended delivery date, this will be advised at confirmation of order.
The delivery service provides we use operate between 8am to 7pm
Delivery Left Safe and Accepting/Signing for Deliveries

If you are not home or on site at time of delivery our courier service will attempt to leave the order in a safe place on the site or with a neighbour.

When signing for the order please inspect before accepting, if goods are received damaged, you must inform the delivery driver immediately and ensure that this is added your signed proof of delivery - If you notice damage to goods delivered that you didn't inform the driver, please notify us with 24hours of receipt and email photography's of the damage to orders@green-tech.co.uk. Or if you believe a parcel or part of your order to be missing, please sign for the delivery as a partial delivery and notify us straight away to investigate. Any orders reported after 24hours from receiving damaged, partially missing or signed for as undamaged and or all received we will endeavor to help rectify the situation but no guarantee is offered due to the acceptance of the goods at time of delivery.
Delayed Delivery & Failed Delivery

We shall be under no liability for any delay or failure to deliver products if the delay or failure is wholly or partly caused by circumstances beyond our control. For example delivery companies being delayed due to traffic incidents or weather conditions.
All risk in the products you order (including risk of loss and/or damage to the products) shall pass to you when they are delivered to the delivery address specified in your order.

If for any reason the purchaser or delivery addressee fails to accept delivery of any of the goods, or John Chambers is unable to deliver the goods on time because the buyer has not provided appropriate instructions, personnel, documents, vehicular access, licences or authorisations:
1) Risk associated with the Goods shall pass to the Buyer.
2) John Chambers may store the Goods until re-delivery, whereupon the Buyer shall be liable for all related costs and expenses (including, without limitation, original and re-delivery charges, storage and insurance).
Product that require a phone call to purchase or are made to order not stocked at the John Chambers warehouse may have a long delivery and lead time.