John Chambers Wildflower Seed supplied to Bishop's Waltham in Bloom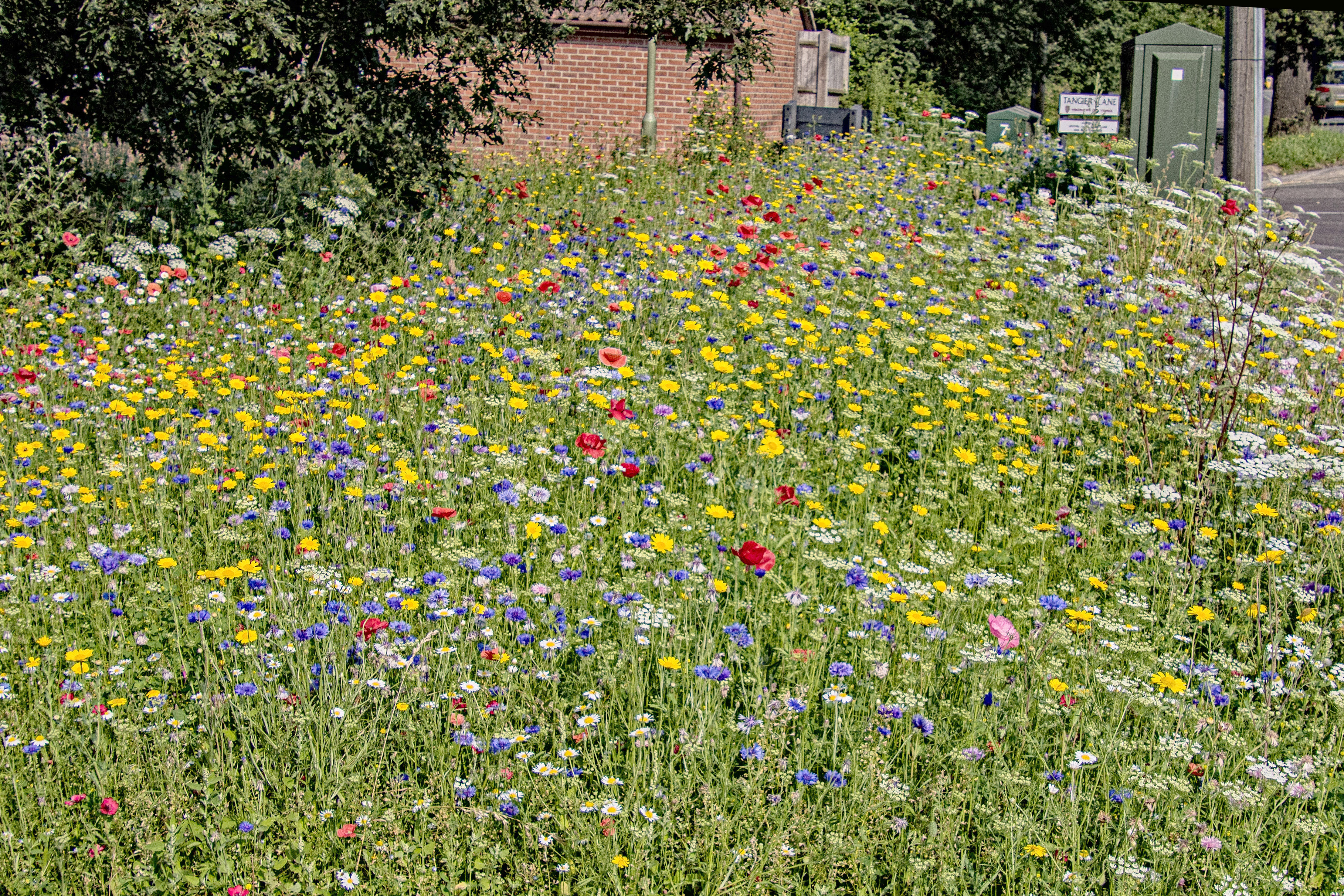 Bishops Waltham in Bloom is a registered charity run by a small group of Trustees, supported by a team of volunteers, who all share a passion and responsibility for planting and maintaining all the flower beds, tubs and hanging baskets in Bishop's Waltham, Hampshire.
Since 2016 this work has been extended to incorporate two main wildflower areas. A 65m2 roundabout and a 180m2 patch of open ground beside a road junction that leads from the main road through the village. Both areas have now been sown with 500gms of John Chambers Wildflower Seed Follers Manor Annual seed mix. This is a special mix of wild and cultivated annual species, originally mixed for the award-winning gardens at the stunning Follers Manor in Sussex.
John Chambers Wildflower Seed has a 35-year history of supplying native British produced wildflower seed and mixes to rural and urban projects across the UK. Seed is sourced from growers that are long established and stringent in their collection processes; it is cleaned by hand, a labour-intensive process that will only achieve the highest quality standards. The team of specially trained seed cleaners only dispatch the best seed that ensures optimum growth and success no matter the climate or soil quality.

Having developed many bedding and shrub beds around the village, the Trustees felt that wildflower areas would add more colour and enjoyment for local residents while supporting biodiversity and a wider range of pollinators. Therefore, the wildflower project at Bishop's Waltham was initiated with the larger open area and followed up with the roundabout. The group received sponsorship from the Waltham Society and BW Gardening Club, in addition to a grant from Winchester City Council to fund this initiative.
Susan Bircher, one of the Trustees comments, "We initially experimented with different seed mixes and some plug plants, and found the annual based mixes gave much more impact and colour. We did use some perennial mixes to try and reduce the yearly workload as we are only a small group, but that created a problem for us with species like wild carrot taking over and dominating the annuals in both areas.
Because of our initial experience we wanted to move back to a mix which gave us real impact for the enjoyment of local residents over a reasonable length of time. When researching options, I saw the John Chambers Follers Manor Wildflower mix and we decided the mix of indigenous wildflowers for wildlife plus the 'extras' of Nigella, California poppies and Coreopsis would give us the 'best of both worlds', and the photos on your website and the Follers Manor website looked very much what we hoped to achieve.
And it did. Very successfully. Lots of colour and variety, and we had a lot of very positive feedback
Posted on 16 May 2022